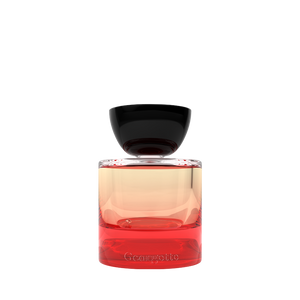 Spray & Say: I Deeply and Completely Love and Accept Myself
This is our rose. Turkish rose oil for self-love and enlightenment, violet leaf absolute for self-expression, sandalwood and patchouli for grounding and guaiac wood for energy clearing, wrapped in pink pepper and black tobacco. Georgette will raise your vibration.
Every 50ml bottle of Vyrao fragrance contains a supercharged Herkimer diamond crystal energised by our healer, Louise Mita. Herkimer diamonds are known to clear, amplify and raise energy.

Top Notes: Turkish rose
Heart Notes: Sandalwood, patchouli
Base Notes: Pink pepper, black tobacco
Turkish Rose - Self-love and enlightenment
Violet Leaf Absolute - Self-expression and individualism
Sandalwood - Grounding
Patchouli - Balance
Guaiac Wood (From Palo Santo Tree) - Energy clearing and raising
Pink Pepper - Self worth
Black Tobacco Absolute - Joy and peace
Vanilla - Sensuality
Georgette is formulated for Self Love. Spray liberally on your pulse points, taking in the fragrance. Use the affirmation card provided as part of your ritual to evoke Georgette's intention. I deeply and completely love and accept myself.
Baies rose, Violet leaf absolute, Rose oil, Sandalwood, Guaiac wood, Patchouli, Tobacco noir absolute, Vanilla, Alcohol denat., Parfum (fragrance), Aqua (water), Limonene, Citronellol, Linalool, Geraniol, Evernia prunastri Extract, Citral, Farnesol, Eugenol