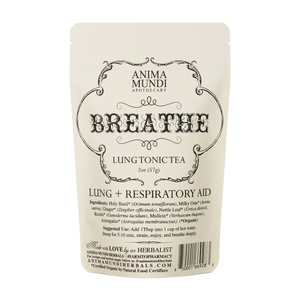 Maintaining lung health is of utmost importance, especially in light of potential damage from toxic fumes or trauma caused by recent global events. Lung health encompasses the entirety of our respiratory system and, according to Chinese medicine, plays a vital role in processing grief and emotional trauma.
Maintains lung health.

Protects respiratory system from damaging results of toxic fumes.
Add 1 Tbsp into 1 cup of hot water. Steep for 5-10 min, strain, enjoy, and breathe deeply.

Store in a cool, dry place.
Holy Basil, Astragalus, Mullein, Reishi Oatstraw, Nettle, and Ginger
More products by
Anima Mundi