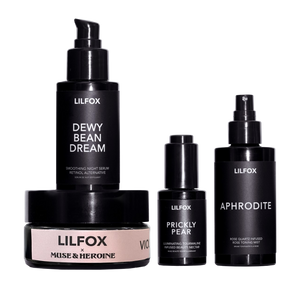 A special curation for bodies that are building, birthing, feeding, and caring for others.
Quench your skin, luxuriate in the sensory, soothe, smooth, and bring a rosy hue to your sleepy, tired, holy body. 

* This curation and all LILFOX products are formulated with 100% pregnancy, lactation, and postpartum friendly ingredients.

Set Includes: 
Dewy Bean Dream Smoothing Night Serum/Gentle Retinol Alternative (50ml/full size)
Aphrodite Rose Toning Mist (50ml/half size)
Prickly Pear Illuminating Beauty Nectar (15ml/half size)
Violet Rose Hand Treatment/ Gentle Retinol Alternative (50ml/full size)
Dewy Bean Dream Smoothing Night Serum/Gentle Retinol Alternative
Instantly smooth skin when worn overnight. Within days, uneven bumps will start to disappear.
Aphrodite Rose Toning Mist
Mist delivers hydration to skin, leaving skin plump and dewy. Skin is prepped for the oil step of applying nourishing face nectars.
Prickly Pear Illuminating Face Nectar
Nourishing, Revitalizing and infused with Brazilian Tourmaline cleansed under the light of a full moon.
Violet Rose Hand Treatment
This nightly treatment will leave hands silky smooth by morning. Dew Bean resurfaces areas with uneven texture and color, while babbasu and mango butter soothes dry, cracked skin and damaged cuticles.
The Mother of All Rituals:
After your bath, shower, or dip in a clear, cool pond—pat dry.
Mist your face with Aphrodite, the highest grade rosewater made with only fresh petals and infused with rose quartz. Apply a pea sized amount of Dewy Bean Dream all over your face, and anywhere you want to keep smooth and buoyant with elasticity. Gently pat Prickly Pear Nectar atop your Dewy Bean Dream. Mist with Aphrodite again. Finish your hands, feet, elbows, knees (and limbs, if you like) with Violet Rose Hand Cream.
Experience soft, pink-cloud sweetness and ease. Top to toe.
Do not skimp on the self massage, beauty.
Dewy Bean Dream Smoothing Night Serum/Gentle Retinol Alternative
Aloe barbadenis leaf juice*, Propenediol, Citurs aurauntium amara water, Glycerin, Niacinamide, Polyglycerol-6 caprylate, Polyglycerol-3 cocoate, Polyglycerol-4 Caprate, Polyglycerol-6 ricinoleate, Panthenol, Hydroxyethycellulose, Micro + Mini Sodium hyaluronate molecules, Vigna acontifolia seed extract, Euterpe oleracea fruit extract*, Glycolic acid, Lactic acid, Opuntia-fica indica stem extract, Bambusa vulgaris extract, Centella asiastica extract, Passiflora incarnata fruit extract, Oryza sativa extract, Victoria amazonica flower extract, Benzyl alcohol, Dehydroacetic acid, Benzoic acid, Sorbic acid, Caprylic/capric trigglyceride, Rosemarinus officinalis leaf extract*, Helianthus annus extract, Tocopherol, Citrus auraniutm var amara flower and leaf/twig oil*, Viola oderata leaf absolute, Citrus paradisi peel oil. Citrus aurantium bergamia peel oil*, Citric acid *Certifed Organic Free of Synthetic Fragrance, Parabens, Petrolatum, Phatalates. Cruelty-Free. Vegan.
Aphrodite Rose Toning Mist
Rosa Damascena Hydrosol*, Rose quartz crystal in each bottle. *Certified Organic A Rose Quartz Crystal can be found in every bottle. Free of parabens, sulfates, and synthetic fragrances. Vegan/Cruelty Free. Gluten Free
Prickly Pear Illuminating Face Nectar
Opuntia ficus indica oil*, Passiflora edulis oil, Vitus vinifera oil*, Cannibis sativa oil*, Punica grantum oil*, Rubus ideaus Co2 extract*, Helianthus annus seed oil, Optunia tuna fruit extract, Santalum austrocaledonicum oil, Jasminum grandiflorum absolute, Citrus paradisi oil, Citrus bergamia oil*, Jasminum sambac absolute, Boswelia carterii**, Brasica napus oil*, Rosmarinus extract*, Tourmaline crystal *Certified Organic. Free of Synthetics (Fragrance, Parabens, Glycols, Silicone, Sulphates, Phthalates.) Vegan. Cruelty Free.
Violet Rose Hand Treatment
Aloe barbadenis juice*, Orbignya oleifera oil*, Glyceryl Stearate, Cetearyl Alcohol, Sodium Stearoyl Lac- tylate, Theobroma grandiflorum butter*, Vigna aconitifolia extract, Hydrolyzed Viola Tricolor Extract, Fragaria ananassa seed oil*, Glycerin*, Psidium guava oil*, Hyaluronic acid, He- lianthus Annuus oil, Terminalia ferdinandiana extract, Althaea officinalisextract,Bambusavulgarisextract,Water, Sodium citrate,Benzylalcohol,Violaodorataoil, Rosadamascena absolute, Citrus junos oil, Citrus bergamia (FCF) oil*, Vetiveria zizanoides oil*, Limonene**, Linalool**, Citronellol**, Geraniol**, *Certified Organic **Naturally Ocurring In.