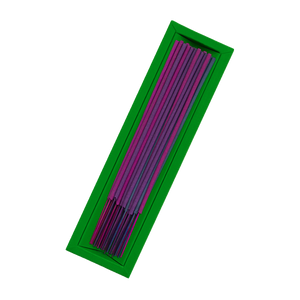 Orris entwined with thorny rose, frankincense and nutmeg with musk to seal casts Witchy's spell. Enchant your space. Approximately 1 hour burn time.

The highest quality incense, featuring a bamboo stick core, with a carefully formulated aromatics blended into bamboo powder. This composition allows for a slender stick, and creates the lowest possible amounts of smoke, allowing you to enjoy the purity of the perfume oils used for each fragrance.
Moroccan Orris Absolute - Courage and creativity
Thorny Rose - Love and enlightenment
Cinnamon - Anti-anxiety
Black Pepper - Anti-anxiety
Patchouli - Balance
Frankincense - Illumination
Sandalwood - Grounding
White Musk - Clarity
Iris Absolute - Cleansing and Harmonising
Carrot Seed - Stimulation - anti-stress and anxiety
Light the end of the incense stick until a flame is established. Gently extinguish by blowing or fanning out the flame The incense will burn for 1 hour approx.
1-(1,2,3,4,5,6,7,8-Octahydro-2,3,8,8-tetramethyl-2-naphthalenyl)ethanone,6,7-Dihydro-1,1,2,3,3-pentamethyl-4(5H)-indanone, Linalyl acetate, Vetiveria zizanioides, ext., acetylated