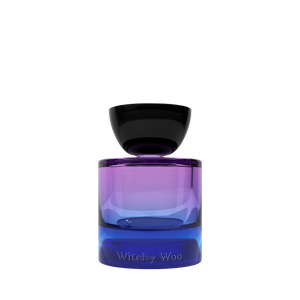 Spray & Say: Woo Are Magic

Deep, earthy, rare Moroccan orris absolute casts the spell of Witchy Woo. Orris entwines thorny rose, nutmeg, cinnamon and black pepper with grounding patchouli and wraps it in illuminating frankincense and opoponax with musk to seal. Wake up the powerful alliance of your courage and creativity.
Every 50ml bottle of Vyrao fragrance contains a supercharged Herkimer diamond crystal energised by our healer, Louise Mita. Herkimer diamonds are known to clear, amplify and raise energy.
Top Notes: Moroccan Orris, rose
Heart Notes: Nutmeg, cinnamon, black pepper
Base Notes: Frankincense, opoponax, musk
Moroccan Orris Absolute - Courage and creativity
Thorny Rose - Love and enlightenment
Cinnamon - Anti-anxiety
Black pepper - Anxiety relief
Patchouli - Balance
Frankincense - Illumination
Sandalwood - Grounding
White Musk - Clarity
Iris Absolute - Cleansing and harmonising
Carrot Seed - Stimulation, anti-stress and anxiety"
Witchy Woo is formulated for Courage & Creativity. Spray liberally on your pulse points, taking in the fragrance. Use the affirmation card provided as part of your ritual to evoke Witchy Woo's intention. Woo are magic.
Orris absolute, Iris absolute, Nutmeg, Carrot seed, Cinnamon leaf, Cedar wood, Sandalwood, Patchouli, Bergamot, Opoponax, Frankincense, Alcohol denat., Parfum (fragrance), Aqua (water), Limonene, Linalool, Eugenol, Geraniol, Evernia prunastri extract, Citronellol, Citral, Farnesol, Benzyl benzoate