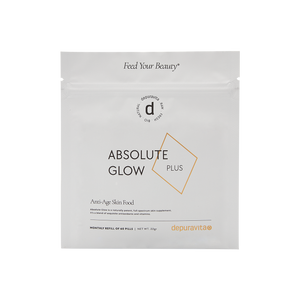 Register to waiting list!
The signature Absolute Glow Plus now comes also in a convenient refillable bag. This way you can reuse your existing glass jar and contribute to reduce environmental waste.

Glow from within

Work with nature for healthy, radiant skin

Absolute Glow Plus is a natural-based supplement that delivers glowing skin with a more youthful, radiant appearance. This premium beauty enhancer is designed to tackle the challenges of growing older and works to minimize fine lines and wrinkles. Recommended for those over 40, it features five effective substances composed of antioxidants and botanicals, including an extract from silver fir branches from the forests of Slovenia packed with 36 polyphenols that protect the skin. It contains French grape extract and its key component trans-resveratrol, a natural phytoalexin which has shown in clinical trials to alleviate oxidative stress and ensure skin stays elastic and health. Absolute Glow Plus also includes ashwagandha, an adaptogenic Ayurvedic herb which helps retain moisture in the skin; cacao, which is rich in essential vitamins and minerals such as vitamin A, potassium, calcium, phosphorus, magnesium and iron and which protects against UVB rays that damage skin cells; and Reishi mushroom extract, an ultra-hydrating superfood that helps the body fend off environmental stressors that prematurely age one's skin.

Grape seed extract

Grape seeds are rich in Antioxidants, including phenolic acids, anthocyanins, flavonoids, and oligomeric proanthocyanidin complexes (OPCS).

Grape seed extract (GSE) is a dietary supplement made by removing, drying, and pulverizing the bitter- tasting seeds of grapes.

In fact, GSE is one of the best-known sources of proanthocyanidins. Due to its high antioxidant content, GSE can help prevent disease and protect against oxidative stress, tissue damage, and inflammation.

There are many benefits to using products containing Grape Seed Extract in your skincare regime as it contains many powerful nutrients. All of these nutrients help towards giving you a healthier, more radiant and hydrated complexion.

Superfood spotlight

SILVER FIR, A water extract from the tangled branches of the Silver Fir found in the largest European mountain forest. It's packed with 36 different polyphenols that improve the skins' overall structure and function.
FRENCH GRAPE EXTRACT, Is rich in trans-resveratrol, ellagic acid, polyphenols and cyanidins boosts intracellular Vitamin C levels and maintains healthy collagen structures.
ASHWAGANDHA, Is an adaptogen that helps your body manage stress, boosting brain function, lower blood sugar and cortisol levels, and helping fight symptoms of anxiety and depression.
CACAO, Packed with vital vitamins and minerals like vitamin A, potassium, calcium, phosphorus, magnesium and iron, will zap free radicals in your body and prevent premature ageing and UVB damage.
REISHI MUSHROOM EXTRACT, Is an anti-inflammatory agent that enhances your skin's natural ability to hydrate and retain water — the key to skin repair, renewal and cell regeneration.
Improves the brightness and radiance of skin
Natural antioxidant properties
Ability to promote SOD and glutathione production
Take 2 to 4 pills per day after meals.
Grape d.e. std 5% trans-resveratrol (Vitis vinifera L.,whole grapes); Camu camu d.e. std 50% Vitamin C (Myrciaria dubia (H.B.K.) McVaugh, fruit); Ashwagandha d.e. std 7% total withanolides (Withania somnifera (L.) Dunal., root); Cocoa d.e. std 8% theobromine (Theobroma cacao L., beans); Reishi mushroom d.e. (Ganoderma lucidum (Leyss. Ex Fr.) Karst, sporocarp); Silver fir branch d.e. std 66% total phenols (Abies alba Mill., Branch)
More products by
Depuravita