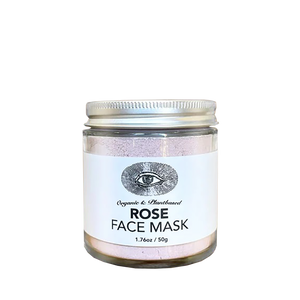 We take immense pride in presenting our high-vibrational blend, brimming with antioxidant-rich flowers and fruits, each contributing to skin tightening, toning, and detoxification.
Our precious rose powder takes on the role of an astringent, reducing redness, while hibiscus magnifies youthful hydration. Mangosteen steps in to combat blemishes and inflammation. All this is harmoniously united with a white kaolin clay base to bring balance, while aloe vera extract soothes and nourishes, culminating in a plant-based masterpiece.
Helps to tighten, tone, and detoxify the skin.

Rose acts as an astringent and redness-reducing ally.

Hibiscus enhances youthful hydration.

Mangosteen fights blemishes and inflammation.

White kaolin clay balances.

Aloe vera extract soothes and nourishes.
Blend 1 tablespoon of this luxurious powder with 2 teaspoons of water to craft a rejuvenating paste. Gently apply to your face, being mindful to avoid contact with your eyes. Allow it to embrace your skin, drying naturally over 10-15 minutes. Wash away with warm water, gently pat yourself dry with a soft towel, and for the ultimate experience, follow up with your favorite moisturizer.

NOTE
As a guiding principle, we encourage everyone to embrace the intuitive wisdom of their bodies when determining the most fitting quantity for their individual needs.
Kaolin Clay, Rose Powder*, Mangosteen Peel, Mangosteen Fruit*, Hibiscus, Aloe Vera Extract, Lemon Peel*

*Organic Ingredients
More products by
Anima Mundi