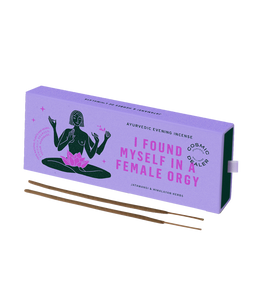 Made in a magical Ashram high in the Himalayan mountains by Yogis. Good vibes and peaceful intentions go into each hand-rolled stick.
Contains 20 incense sticks. Approx 14cm long (so not overpowering in small spaces). 
Be instantly transported
To a sensual, exotic place: where a bevy of beautiful women gather in celebration of the female form.
What it smells like 
Jatamansi: woody with warm honey notes.
Blended with Ayurvedic herbs from the Himalayas. A unique twist. 
Not overpowering or over-perfumed. Subtle.  
We like this as an evening incense. Jatamansi is known to promote a blissful mind. Ayurvedic herbs heal and relax.
Made from 100% natural sandalwood and aromatic Ayurvedic herbs.Vegan. Free from all the random stuff you find in suspiciously cheap incense like synthetic fragrances, animal fats and fillers. Also free from essential oils.
More products by
Cosmic Dealer